Our Commitment to
Social Responsibility
---
Social Goals
---
Maintain an Associate Engagement Score above the average for high performing companies
Increase Associate volunteer hours by 10% between 2017 and 2020
Install Smart Home Program across more than 70% of our portfolio by year end 2020
Continue to increase our average resident engagement score year over year
UDR Associates
---
as of year-end 2019
Associates by Gender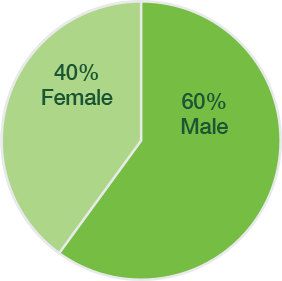 Associates by Age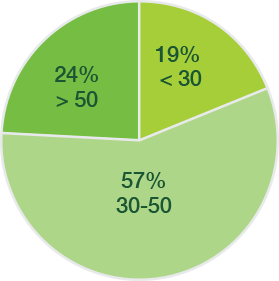 Diverse Workforce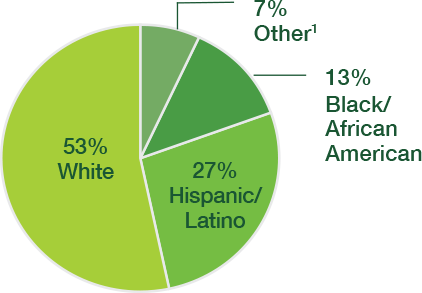 Our Commitment to Associates
---
Our associates are the foundation of our success and the core of our culture. We cannot achieve success without supporting the growth, development, and engagement of our associates.
Highlights
Associate community service hours
of Associates would recommend UDR as a great place to work
Training hours provided for Associates
of Associates received training
Training
We believe that training is important to our Associates' job satisfaction, is essential to furthering their effectiveness, and helps in career advancement and Associate retention. Accordingly, we offer a wide variety of training opportunities. In addition to training designed to address regulatory and statutory matters (e.g., harassment, cybersecurity, fair housing, etc.), Associates have the option of participating in management development through our Certified Manager and Career Mobility Programs. These programs are designed to enable our Associates to acquire skills that will be useful to them as they progress in their career. In total, there are over 5,000 courses available to our Associates. Examples of program topics include: leasing skills, basic property maintenance, customer service, project management, and system applications.
Community Engagement
Our Associates strive to connect our residents with the neighborhoods and communities in which they live. Examples of 2019 resident/neighborhood events included a Summer Jazz BBQ event, Breakfast on the Go, an Ice Cream Social, and a Carnival. These events encourage community growth and outreach.
Diversity and Inclusion
Creating and maintaining a diverse and inclusive workplace, that supports the development and advancement of our workforce, is not just a buzz word for UDR, but rather a commitment to our Associates. In our most recent Associate Engagement Survey, 87% of Associates feel that people from diverse backgrounds can succeed at UDR. This statistic indicates that the Company is succeeding in making most Associates feel valued, but also engaging them in such a way that they are confident in their ongoing career development.
Our Commitment to Residents
---
Creating a better way to live for our residents starts with listening. Asking for and responding to resident feedback is a vital part of our culture and integral to how we manage our business. It provides the foundation for us to continue to improve service and develop new amenities and programs— all designed to make life better.
NPS
Net Promoter Score® (NPS®) is a core metric for measuring customer experience and predicting business growth, serving as a global benchmark for customer satisfaction and customer loyalty. We moved our customer net promoter score (NPS), to 31.02 from last year's 21.64, and we are well on our way to achieving our 2019 NPS goal of 37.00.
Our success starts with our people