Our Commitment to
Social Responsibility
---
Social Goals
---
Maintain an Associate Engagement Score above the average for high performing companies as determined by the third party that conducts our engagement surveys.
Increase the associate volunteer hours by 25% between 2017 and 2022.
Perform a Diversity, Equity and Inclusion study and share the results with our associates and Board members.
Provide 100% of associates with health and well-being opportunities throughout the year.
UDR Associates
---
As of year end 2020 unless otherwise stated.
Associates by Gender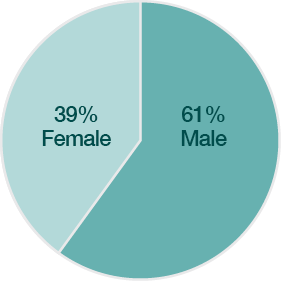 Associates by Age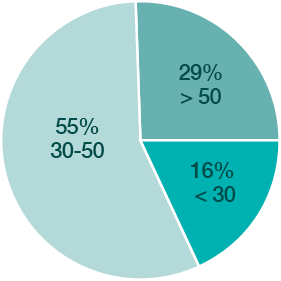 Diverse Workforce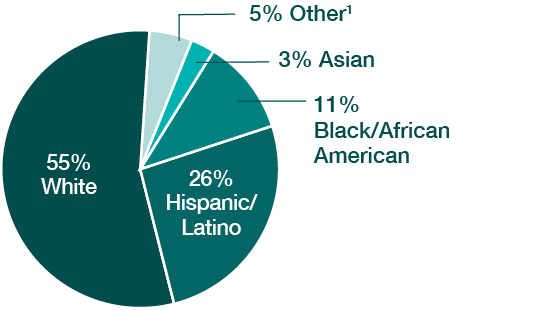 Management* Gender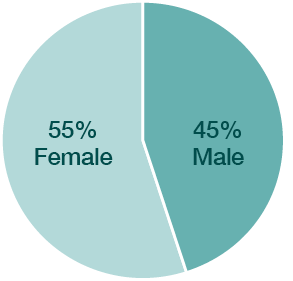 Management* Ethnicity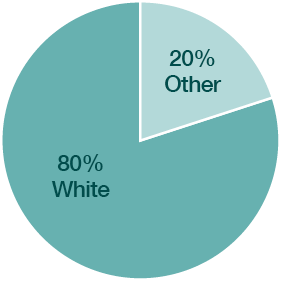 Management* Promotions Gender (2018-2020)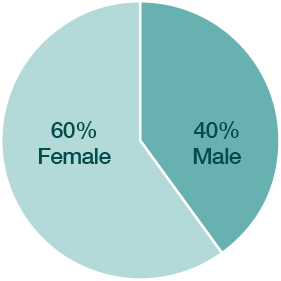 Management* Promotions Ethnicity (2018-2020)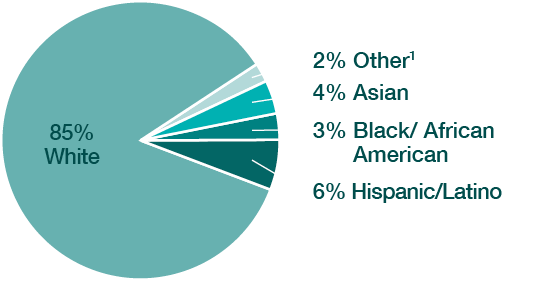 (1) Other includes American Indian, Alaska Native, Native Hawaiian, Pacific Island, Not Specified, or two or more races.
*Associates with the title of Community Director or Director and higher job classifications.
Our Commitment to Associates
---
Our associates are the foundation of our success and the core of our culture. We cannot achieve success without supporting the growth, development, and engagement of our associates. In 2020, we revised our culture statement to reflect evolving values and launched a "culture" website where associates can learn about our cultural keystones more accurately. Learn more about UDR Culture
Highlights
of associates said they have a good understanding of UDR's strategy and goals.
of our associates are "engaged", 7% above the average for high performing companies as determined by the third party that conducted the survey.
of our associates provided opportunity for Diversity and Inclusion Training which includes unconscious bias training.
Training
UDR believes that ongoing, consistent training is vital to our associates' job satisfaction, essential to increasing their effectiveness, and crucial to their career advancement and retention. Each new associate undergoes an onboarding process that includes information and training regarding the Company's culture, values, and mission, along with administrative matters. In addition to our required annual training regimen designed to address regulatory and statutory matters, the Company offers a wide range of courses in career advancement.
We enhanced our controls around required training to ensure that associates complete these courses in a timely manner. As of our 2020 year end measurement, 96% of associates completed IT security training, 97% of associates completed fair housing, 97% of associates completed harassment training, and 98% of associates completed diversity and inclusion training, and 99% of associates completed our annual business ethics training.
Associate Outreach and Community Engagement
At the corporate level, we donated to Packs of Hope, the Salvation Army's Angel Tree program, and Coats for Colorado, as well as donated masks to Children's Hospital Colorado and provided multiple opportunities to send care packages and cards to support our American troops. The switch to virtual working and learning was challenging for many, so we donated 53 computers to a Denver-area public school where 95% of the students are from low-income houses and lack the resources for virtual learning.
Our properties also found ways to provide charitable outreach through food drives, blood drives, donating food and thank you gifts to healthcare workers, as well as coordinating resident donations to a shelter for domestic violence against women and children.
UDR also supports our broader communities by providing affordable housing at over 45 communities as of year end 2020 (covering over 3,700 homes) and by encouraging associates to contribute to their communities and perform their civic duty by giving Company-wide paid time off to vote in local, state, and national elections.
Diversity and Inclusion
UDR has long believed that diversity and inclusion is important to our Company's success. We are committed to creating and maintaining a diverse and inclusive workplace environment that supports the development and advancement of all associates. Beginning in 2020, and continuing into 2021 we formalized our diversity, equity, and inclusion efforts by forming a committee dedicated to overseeing this initiative. We engaged an experienced consultant to help guide our efforts through a survey sent to all associates and the formation of focus groups to provide additional insights. We will use the findings to create new programs specifically created to strengthen our DEI efforts in our hiring processes, associate training and development, compensation, and representation of underrepresented groups, and should help identify new goals from which we can measure our progress in the future.
UDR Wellness Occupational Health and Safety
The health and safety of our associates is of utmost importance to UDR. Throughout 2020, we published a monthly Wellness Newsletter for our associates as part of our UDR Wellness Initiative. The Wellness Newsletters covered multiple topics, including preventative care, fitness and heart health, strategies to maintain mental health when working remotely or in self-isolation, as well as the Center for Disease Control and Prevention's ("CDC's") recommendations related to COVID. Our associates also have access to UDR's Associate Resource Program, which offers access to consultants, online resources, and confidential access to three free visits with a counselor should they be needed and in 2021, we rolled out access to Ginger, a no-cost on demand behavioral health mobile application.
At our corporate office, UDR coordinated a flu shot clinic in fall of 2020 for our associates and offered virtual and in person fitness programming featuring ongoing challenges, classes, and healthy recipes.
Our Commitment to Residents
---
Creating a better way to live for our residents starts with listening. Asking for and responding to resident feedback is a vital part of our culture and integral to how we manage our business. It provides the foundation for us to continue to improve service and develop new amenities and programs— all designed to make life better.
NPS
Net Promoter Score® ("NPS®") is a core metric for measuring customer experience and predicting business growth, serving as a global benchmark for customer satisfaction and customer loyalty. These measure resident loyalty by asking "how likely are you to recommend this apartment community to a friend, family member, or colleague?" generating an NPS score which can range from -100 to +100. Negative scores indicate a need for improvement. Scores ranging from 0-30 are widely considered "Good". Scores above 30 are widely considered "Great". UDR maintained an average NPS score above 33 in 2020. We survey residents at key touchpoints throughout their lease term, including touring, move-in, quarterly, completed maintenance requests, and at renewal/transfer/move-out. The quarterly surveys are a regular check-in for us to see how things are going and resolve any problems as early in their lease as possible. This continuous cycle of feedback brings to the forefront opportunities to improve our policies and communications as well as implement amenity improvement or renovation capital projects. It also enables us to better understand what matters to our customers.
Our success starts with our people